Little Spacey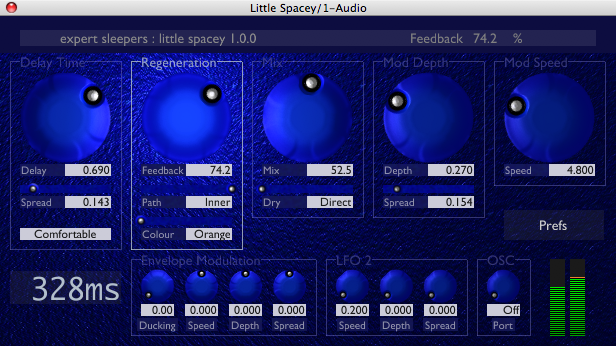 Little Spacey is delay effect, inspired by classic analogue 'bucket brigade' delays but with refinements only possible in the digital arena - not to mention a maximum delay time that would cost a small fortune to realise in hardware.
Great care has been taken to give Little Spacey the smooth, creamy sound which makes analogue delays still popular today.
In common with the best analogue delays Little Spacey allows you to modulate the delay time for chorus or vibrato effects. Unlike most analogue delays, Little Spacey is not restricted to mono operation, and works well in stereo or multi-channel (AU only) settings, offering variation of the effect between the channels for particularly rich and involving sounds.
System Requirements
Mac

Mac OS X 10.6.8 or higher
Intel processor
Audio Unit or VST host application, or Pro Tools 10.3.6, or Pro Tools 11 or above

Windows

Windows XP SP2, Windows 7 or higher
VST 2.4 host application
Purchasing
Initially the plug-in runs in demo mode, in which it is fully functional, except that it will time-out after 15 minutes of use. Simply reloading the plug-in resets the time-out.
To remove the time-out, you can purchase a registration. The price is $29 (US dollars, plus VAT if applicable).
A registration allows you to install the plug-in on up to three computers at once.