Oomingmak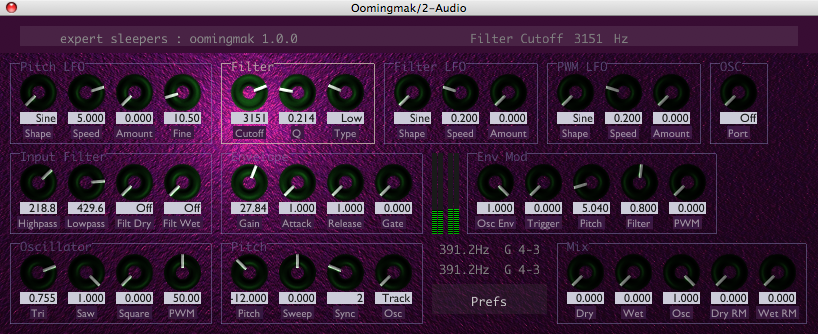 Short introduction
Oomingmak turns your guitar into an analogue monosynth.
Long introduction
Oomingmak is a pitch- and envelope-tracking (re)synthesis effect.
It tracks the pitch and level of the incoming audio and uses them to:
synthesize an entirely original sound, using classic analogue-style waveforms and subtractive synthesis.
apply pitch modulation to the incoming audio, while syncing to the original waveform (the classic 'oscillator sync' effect, except that the 'oscillator' here is your audio).
The oscillator can also be synced to the incoming audio, and the tracked envelope can be used to modulate the pitch, filter cut-off and oscillator pulse-width. LFOs are also provided for further modulation possibilities.
Two ring modulators are also provided, allowing two different combinations of the above sounds to be modulated against each other.
As with all pitch-tracking devices, Oomingmak tends to work best on monophonic sound sources. It was designed particularly with the guitar in mind, in which case it tends to work well on solo lines rather than chords. However, sending chords, or even non-pitched sounds (e.g. drums) through Oomingmak can also have very interesting results.
Audio demos
The sounds below are examples of what Oomingmak can do.
System Requirements
Mac

For Oomingmak v1.0.1 and earlier - Mac OS X 10.2.8 or higher (10.4.11 or higher recommended)
For Oomingmak v1.1.0 and later - Mac OS X 10.5.8 or higher
Audio Unit or VST host application

Windows

Windows XP SP2
VST 2.4 host application
Purchasing
Initially the plug-in runs in demo mode, in which it is fully functional, except that it will time-out after 15 minutes of use. Simply reloading the plug-in resets the time-out.
To remove the time-out, you can purchase a registration. The price is $29 (US dollars, plus VAT if applicable).
A registration allows you to install the plug-in on up to three computers at once.