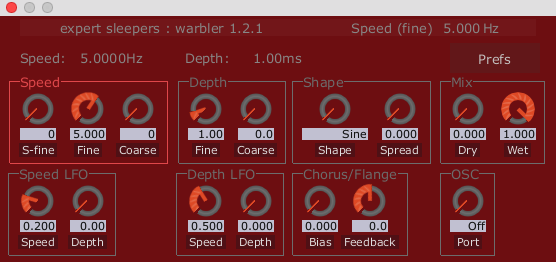 Warbler is at heart a vibrato effect, with additional controls that allow chorus/flange/delay type effects, as well as quite unusual hybrid sounds that aren't easily categorised.
The vibrato depth ranges from subtle modulations to extreme pitch effects. The vibrato LFO (low frequency oscillator) can be set from 0Hz to 5kHz and is controlled by 3 knobs to allow accurate control over the whole range.
The vibrato LFO shape can be selected from a variety of options and smoothly changed between them.
The LFO speed and the vibrato depth can themselves be modulated by two extra LFOs.
A 'bias' control is provided to change the effect from simple vibrato to something more like a traditional chorus or flange. Feedback can also be applied to give deeper, more resonant flanges or to produce echo effects.
The plug-in works as a generic n-to-n processor i.e. it will do mono-to-mono, stereo-to-stereo, 5-to-5 etc.. Good hosts will also allow its use as a mono-to-stereo effect (e.g. Logic does this). A 'spread' control is provided to offset the LFO phase per channel - giving a result much like a classic 'stereo chorus' effect.
Demos
Hear for yourself the effects Warbler is capable of on the audio demos page.
Or watch this video:
System Requirements
Mac

Mac OS X 10.6.8 or higher
Intel CPU
Audio Unit or VST host application, or ProTools 10 or above for the AAX version

Windows

Windows XP SP2 or Windows 7
VST 2.4 host application, or ProTools 10 or above for the AAX version
Warbler supports 32 or 64 bit operation on Mac and Windows.
Purchasing
Initially the plug-in runs in demo mode, in which it is fully functional, except that it will time-out after 15 minutes of use. Simply reloading the plug-in resets the time-out.
To remove the time-out, you can purchase a registration. The price is $19 (US dollars, plus VAT if applicable).
A registration allows you to install the plug-in on up to three computers at once.