Spectral Conquest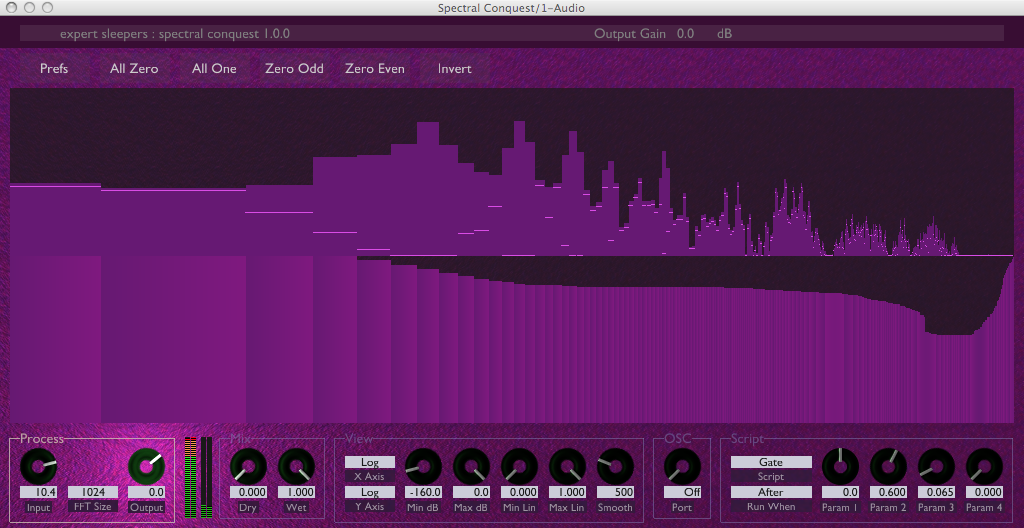 Introduction
Spectral Conquest is an effect plug-in that lets you directly manipulate the frequency spectrum of audio signals.
The incoming signal is analysed via a FFT (Fast Fourier Transform), resulting in the familiar spectrum plot where the full audio spectrum is split into a number of narrow frequency bands. The outgoing audio is then regenerated by an Inverse FFT. The interesting bit is that the plug-in lets you modify the frequency spectrum in between.
Spectral Conquest allows you to modify the spectrum in two ways:
By setting a multiplier for each frequency band. You can simply draw out the multipliers in the GUI.
By applying a script to the spectrum. Some basic scripts are included with the plug-in to perform operations such as filtering and gating, but you can also write scripts yourself to do whatever you like.
System Requirements
Mac

Intel CPU
Mac OS X 10.5.8 or higher
Audio Unit or VST host application

Windows

CPU with SSE2 capabilities
Windows XP SP2
VST 2.4 host application
Purchasing
Initially the plug-in runs in demo mode, in which it is fully functional, except that it will time-out after 15 minutes of use. Simply reloading the plug-in resets the time-out.
To remove the time-out, you can purchase a registration. The price is $29 (US dollars, plus VAT if applicable).
A registration allows you to install the plug-in on up to three computers at once.