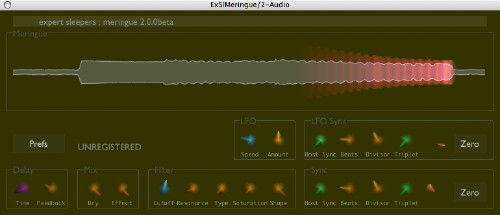 Meringue is a delay effect. Unlike most delays, the delay runs alternately forwards and backwards, rather than continually forwards. This simple difference produces some interesting and unusual effects, e.g.
Delay echoes play alternately forwards and backwards.
The time between a note and its echo varies, depending on the location of the note in the delay buffer (unlike a normal delay, where the time between a note and its echo is constant).
As you'll see from the above, it can be useful to know where the current delay buffer write position and direction are, and for this reason Meringue features a large graphical overview of the sound in the delay buffer, and of the motion of the write position.
Meringue has a filter/saturation section for creatively treating the sound.
The delay time and the filter LFO can be synced to the host application's tempo. The phase of the delay and the LFO can also be reset manually.
Available as Audio Unit and VST plug-ins (both Universal Binary) for Mac OS X, and as a VST plug-in for Windows.
Demos
Hear for yourself the effects Meringue is capable of on the
audio demos
page.
System Requirements
Mac

Mac OS X 10.6.8 or higher
Intel processor
Audio Unit or VST host application

Windows

Windows XP SP2, Windows 7 or higher
VST 2.4 host application
Purchasing
Initially the plug-in runs in demo mode, in which it is fully functional, except that it will time-out after 15 minutes of use. Simply reloading the plug-in resets the time-out.
To remove the time-out, you can purchase a registration. The price is $19 (US dollars, plus VAT if applicable).
A registration allows you to install the plug-in on up to three computers at once.